Spotlight on VCE
Learn about the teams that help supply the Commonwealth of Virginia with quality products & services
VCE Indian Creek Inmate Staff Forklift Team
VCE Plants 038/039 at Indian Creek Correctional Center Helps Combat Recidivism
VCE Plant 038/039 at ICCC certified the six inmate workers in the photo (below) with forklift certifications. Plant Foreman, Michael Krum, is a certified forklift trainer. VCE inmate workers, in good standing, are offered the opportunity to train and become certified forklift operators. These inmates are within 60 days of release, and were excited to receive the certification, which will increase their employability as they reintegrate into society.
Plant 038/039 at ICCC operates four industries, Janitorial, Ink & Toner, Ink & Toner Rebuild, and Drug Testing Kits. The plant employs 25 to 30 inmate workers who gain experience in shipping and receiving, picking and packing, and manufacturing. They also have the opportunity to develop soft skills, such as working with others, effective communication, and problem solving. The staff at Plant 038/039 go the extra mile to provide inmate workers the opportunity to obtain skills that will support their successful transition into the community. I would like to thank my staff, Plant Foreman Michael Krum, Plant Foreman Christana Jenkins, and Production Technician Reginald Brown. We are proud to support the VADOC vision for reentry. Reentry is our business.
In Photo: INMATES RECEIVED LICENSES (l to r) Howard T., Frank F., Kenneth M., Michael Krum (Plant Foreman), Charles Chalmers (Plant Manager), Robert H., Pedro D., LaRon B.-P. (not pictured)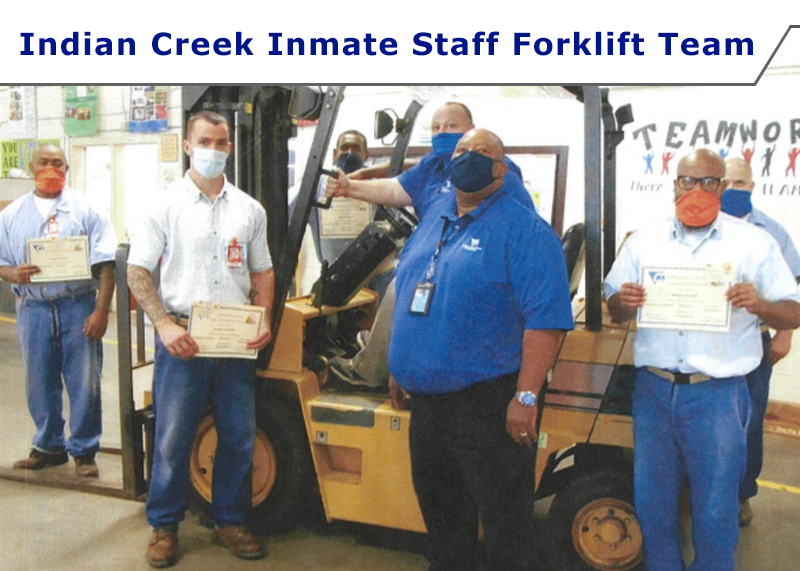 White Bark Warehouse
The VCE warehouse team has fulfilled 1,346 orders since January of 2020. This monumental task was accomplished despite the current crisis by SR Supervisor Doug Todd, Daryl Pittman, Telesea Sims, Tracia Witcher and 20 inmate staff. The VCE warehouse has also been the pilot site for the VCE Apprenticeship Program and recently honored its first graduate.
The VCE warehouse is so much more than a storage facility for VCE. It is a main hub for shipping and receiving of kits, finished products and raw materials for most VCE manufacturing and services being offered. The VCE warehouse's professionalism and flexibility have been on full display since they lost their inmate workforce in the beginning of April due to the COVID-19 pandemic. Maintaining the supply chain and comprehensive services that the warehouse provides to all of VCE has been handled by the warehouse staff and volunteers salvaging what could have been a financially difficult fourth quarter. In addition, the warehouse staff has kept up with the sanitation and cleaning of White Bark.
This dedicated team has handled every challenge with the utmost dedication, professionalism and can do attitude. Please help to thank the warehouse staff for all they have done and continue to do on a daily basis.
Braille Transcription
The Braille Program is a job training program that teaches employable skills to returning citizens while producing quality products for our customers.
Certified proofreaders work to assist new employees in becoming braille transcribers certified through the Library of Congress. Once they receive their transcription certification, they are able to transcribe text into braille. The next level of training teaches returning citizens how to proofread Braille.
It takes a minimum of 18 months to complete the Braille Program. They are then ready to pursue employment as certified Braille workers upon release. This is a skill most often completed as a work-from-home position. VCE has certified twenty-two transcribers, four proofreaders and currently have one inmate working on her music certification.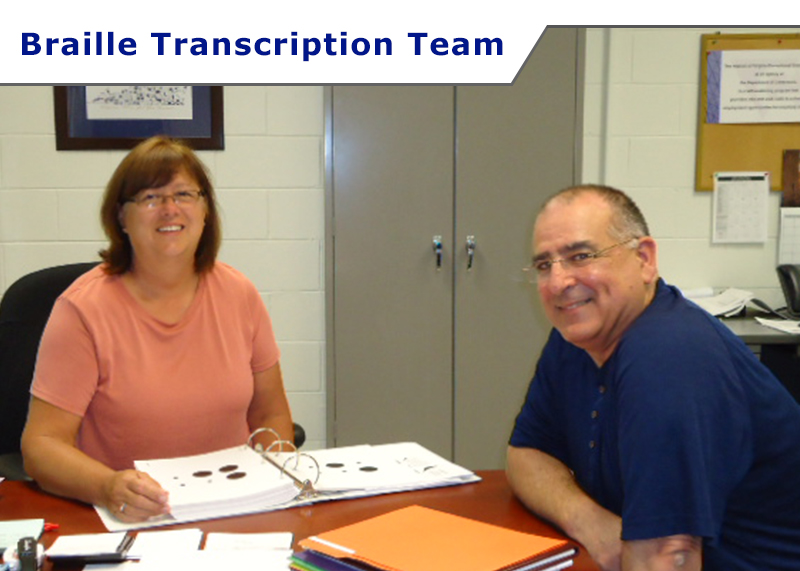 Most of VCE's Braille work comes from the Department for the Blind and Vision Impaired. They send us textbooks from schools all around the state that are in need of transcription. When transcription and proofreading are complete, the transcribed text is provided to DBVI electronically in digital format. They are then able to print the text in Braille (dots) for students.
Tag Shop
Virginia Correctional Enterprises (VCE) operates a license plate manufacturing plant at the State Farm Enterprise Unit in Powhatan, Virginia. The Tag Plant is the sole manufacturing facility for all license plates distributed throughout the Commonwealth. The Plant manufactures all Diplomatic plates utilized throughout the continental United States for the U.S. Department of State/Office of Foreign Missions.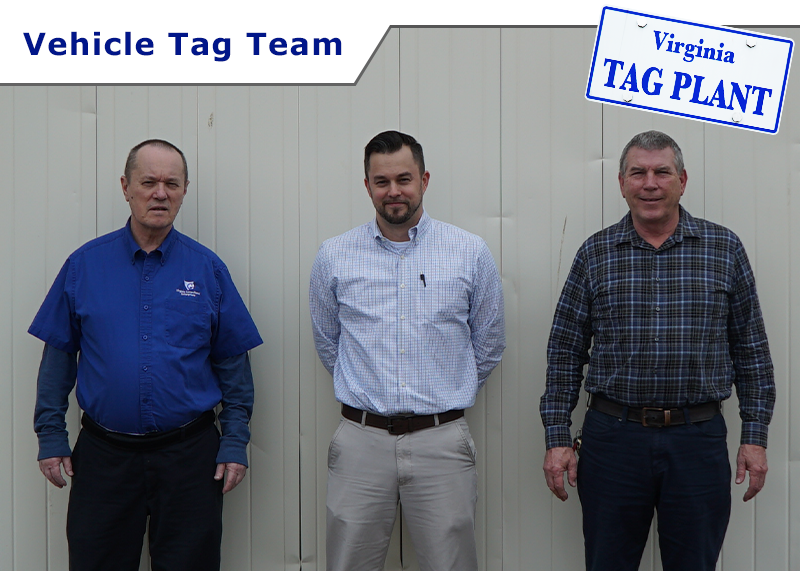 The Commonwealth of Virginia has authorized well over 400 different graphic designs for standard, handicapped and personalized license plates for the citizens to choose from. The Plant manufactures over 3 million vehicle license plates per year. With 135 DMV Centers and Selects, as well as many different Dealer locations to distribute plates to, Virginia Correctional Enterprises operates its own warehouse to manage the logistics of distribution. It is in the Tag Warehouse that some very high moving volumes of license plates are stocked and staged for distribution. It is from this warehouse that all personalized plates, as well as many standard production plates, are paired with decals and mailed directly to the customer.
VCE's Tag Plant employs, on average, 50 incarcerated men and is in direct line with the Department of Corrections Re-entry Initiative. The men are trained on equipment and machines to manufacture a quality license plate as well as computer skills in Microsoft Office for Inventory/Production Control, Shipping and manufacturing reporting. This in turn gives them real and tangible skills for future employment upon release.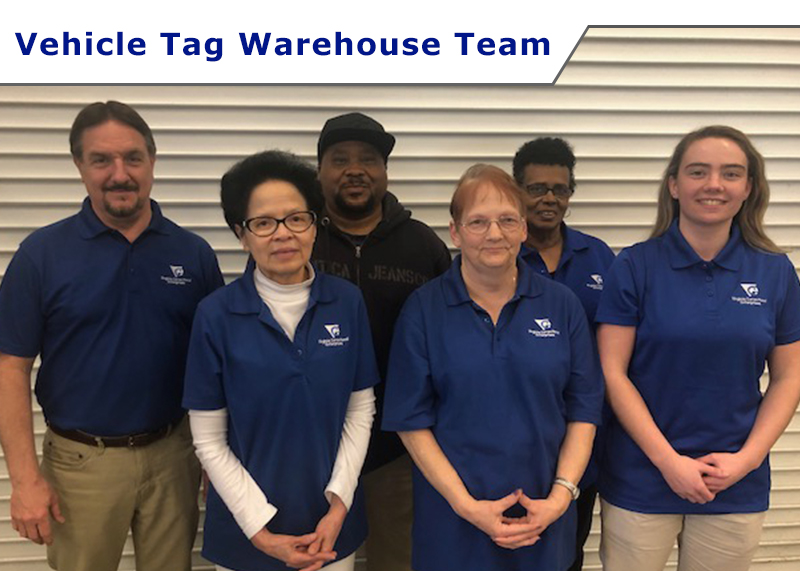 Offset Printing Team
The VCE Offset Print Team wishes to thank our customers who have helped VCE fulfill its mission.
The Team is located at the State Farm Offset Printing Facility and is committed to providing a positive workplace that develops and sustains job satisfaction, while equipping 37 inmates with the job skills necessary for re-entry into society.
The Team is looking forward to providing our customers with additional options through an upcoming prepress upgrade including new inmate computers and software.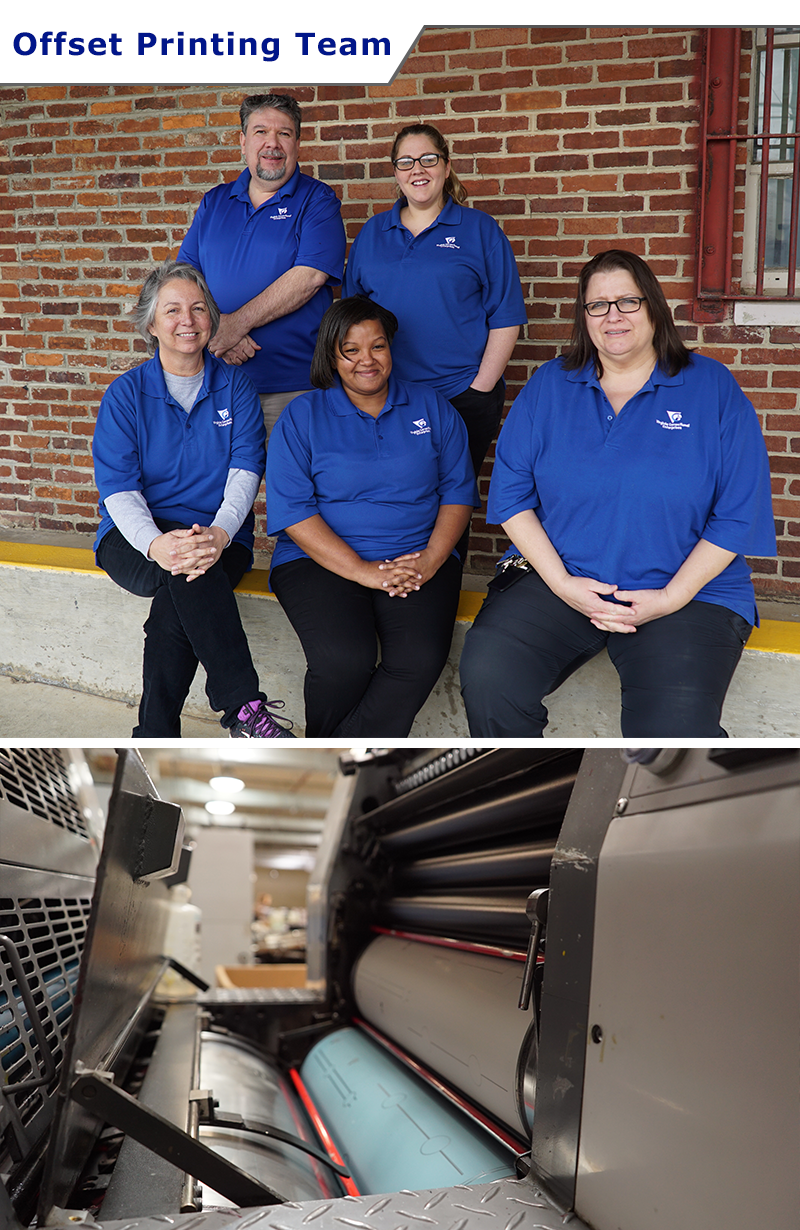 Apprenticeship Program
Virginia Correctional Enterprises is proud to announce that Ms. Thomas has successfully passed all of the requirements for the Warehouse Logistics and Materials Handler Registered Apprenticeship Program.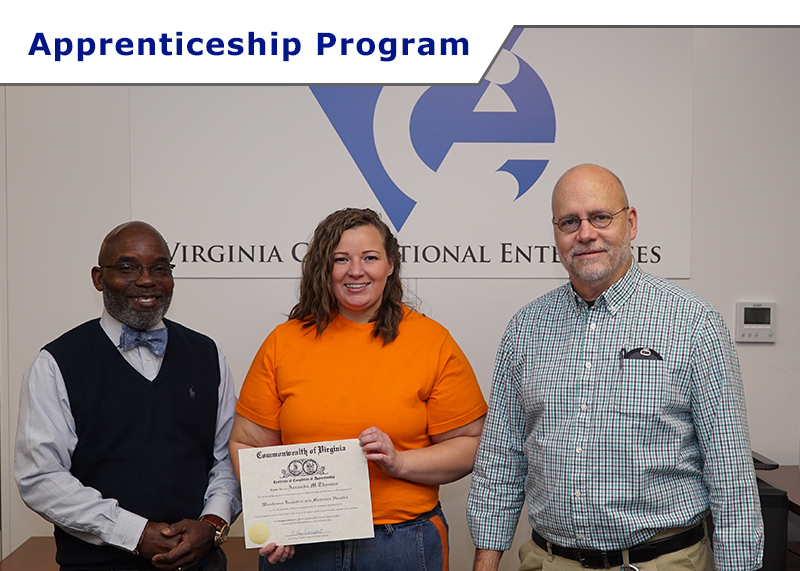 Applicants must undergo a competitive application process in which all warehouse inmate staff have an opportunity to apply and join the program. Factors included in the application process include:
Education
Work Experience
Time in Facility
Ms. Thomas, our first Registered Apprenticeship Program graduate was required to spend up to 500 hours in each of four work rotations:
Orientation
Case Goods
Office Systems
Apparel
Among other duties, Ms. Thomas managed shipping and install quality control procedures, as well as machines maintenance, shipping logistics and team work schedules. She was selected by her peers and supervisors to be the Apprenticeship Team Lead.
Ms. Thomas anticipates using a combination of supervisory experience, quality control procedures, data entry skills and warehouse logistics in future employment, experience gained through the VCE Apprenticeship Program.
Ms. Thomas credits her success to drive and dedication. "You have to want it. If you don't have life goals, don't bother applying."
Accounting Team
When it comes to watching out for your money, nobody does it better than VCE's Accounting Department. Whether it's collecting it, paying it or summarizing it in a variety of financial reports, Accounting touches every dollar of revenues and expenses. And not only that, our staff in Accounts Payable and Accounts Receivable provide critical customer service interfacing with our customers and vendors.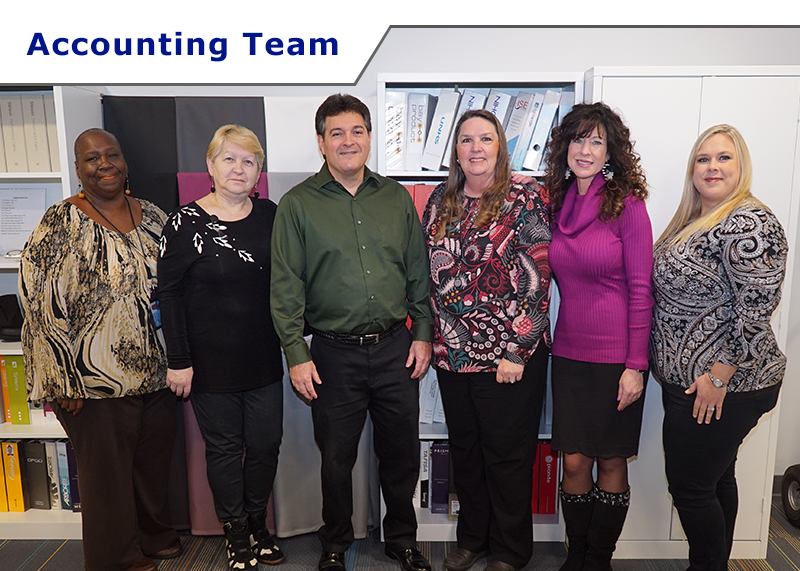 Summer Walls in Accounts Receivable performs collection duties, applies a variety of payment types to our customers' accounts, sends out statements and dunning letters, issues invoices for and tracks deferred revenue balances and assists with fixed asset accounting.
Led by Tracy Davis, Maya Larson, Theresa Beckett and Lori Wright make sure the array of VCE's bills get paid on time (vendor invoices, utilities, leases, sales tax, etc.). They process inmate payroll, travel reimbursements and our credit card invoice (which is really about 300 invoices in one)!
Oh, if that's not enough, A/R and A/P not only have to process everything in our accounting system, they have to interface or process all payments and deposits into Cardinal, the Commonwealth's system. Cindy Williams in Cost Accounting prepares the departmental budget statements, coordinates VCE's daily cycle counts and physical inventory, reviews and updates standard labor and overhead rates and assists with VCE's monthly financial statements by ensuring inventory is in accordance with Generally Accepted Accounting Principles.
We also produce monthly, quarterly and annual financial reports for the Department of Accounts, IRS and internal use.
Sussex II Laundry
Congratulations to the Sussex II Laundry Team! 
This team is averaging cleaning 85,000 pounds of laundry per week while training 50 inmate staff critical skills for reentry, fulfilling both customer needs and VCE's mission.
Officers Green & Cartwright, Production Foremen Darrin Cage & Anthony Booker (not pictured) along with Senior Supervisor David Abernathy, under the guidance of Laundry Plant Manager Gary Goode & VCE's Group Manager of Commercial Services Jamonne Rose have accomplished this impressive task despite numerous obstacles including the consolidation of Laundry Services at Sussex II as well as temporary staff shortages.
Please salute our VCE Laundry Team whenever you see them!

Special Olympics & VCE
Virginia Correctional Enterprises is proud to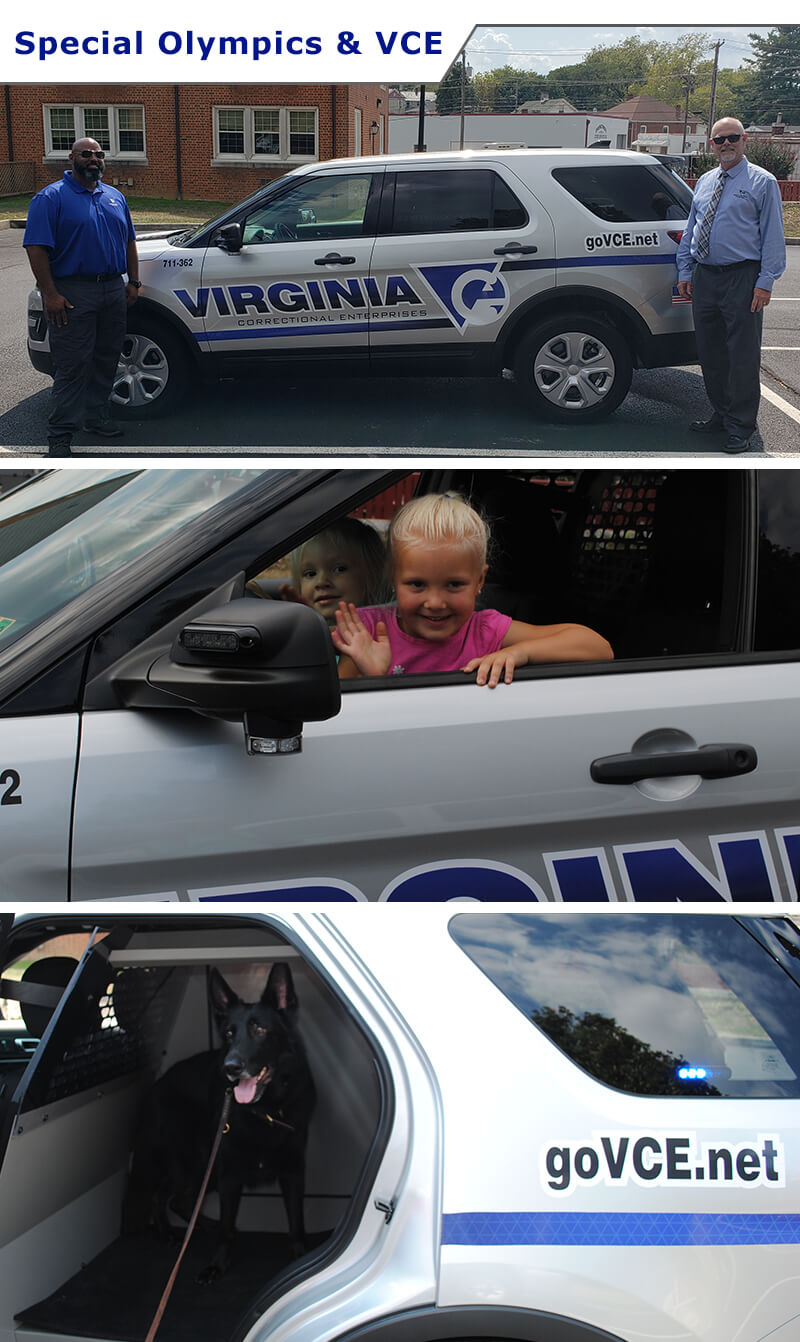 continue our partnership with the Special Olympics. We were thrilled to meet new friends and participate in the 2019 Law Enforcement Special Olympics Car Show on Sept. 21, 2019 in Bedford, Virginia. VCE showcased our law enforcement K-9 vehicle conversion unit, where our new friends interacted with our staff and car.
The mission of Special Olympics is to provide year-round sports training and athletic competition in a variety of Olympic-type sports for children and adults with intellectual disabilities, giving them continuing opportunities to develop physical fitness, demonstrate courage, experience joy and participate in a sharing of gifts, skills and friendship with their families, other Special Olympics athletes and the community. Please visit specialolympics.org to find out more about this wonderful organization.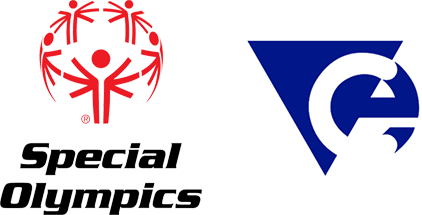 Procurement
The (5) five person Procurement team at VCE is a centralized department supporting 16 locations, 30 manufacturing plants throughout Virginia We procure raw material, equipment, services and establish long term contracts; ranging from small dollar purchases to large complex procurements. The team establishes contracts that leverage buying power to reduce the over-all cost of manufactured items that are sold to state agencies, cities, towns, counties and institutions of higher learning within the Commonwealth. Procurement is constantly seeking new vendors to enhance the products offered using negotiations and vendor interactions. Currently, the team has 112 active contracts. The team processes over 7,800 orders in eVA, which equates to over $25 Million in fiscal year 18. The Department ensures compliance with state and departmental policies and procedures.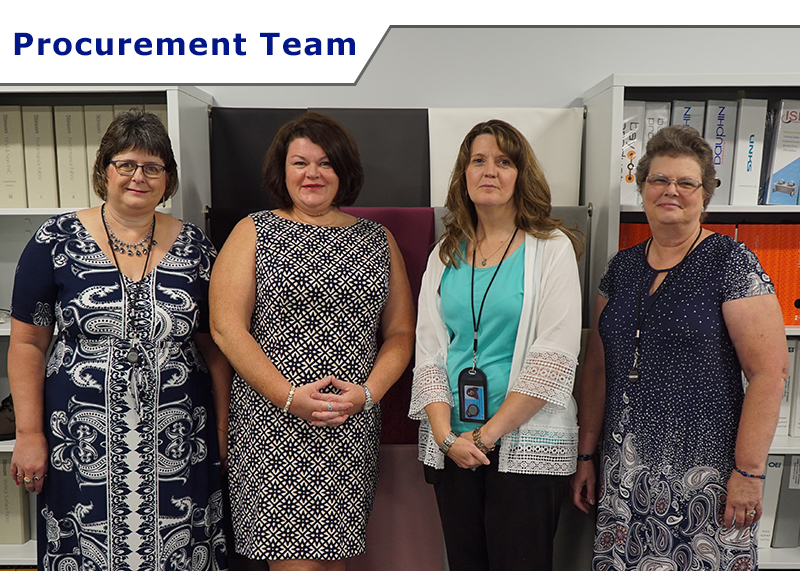 Training and certifications are are in high demand in the Procurement field. As a team: we hold 9 certifications and collectively have over 72 years of experience in Procurement.
The Procurement Department provides oversight to the 33 active credit cards. This oversight includes training, auditing and yearly credit card review class for all cardholders and their supervisors.
Digital Works
The Digital Print Shop affords our customers the ability to have their color jobs done quickly, affordably and efficiently. Our large fleet of presses allow us to meet or exceed our customer's delivery expectations on a daily basis.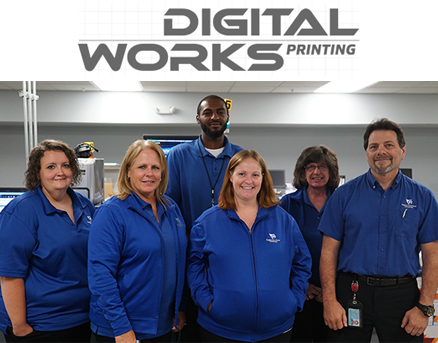 Digital is able to produce complex jobs requiring die cutting, special binding, tabs, UV coating and laminating. Training manuals are one of our specialties. Whether our customers require a 3 ring binder or spiral binding we can make it happen.
Our color envelope press produces quality color envelopes in a wide range of sizes and stock including panel card if needed.
Our dedicated print Sales Rep, Mary Anne Davis-Turner, is always happy to visit with customers to make sure they receive exactly they need.
Customer Kudos
"Your team does a great job for us and we appreciate your time/efforts!"
"We received the booklets this afternoon and they look great. Thank you for making this job a priority on Friday! Send our thanks to the VCE team for quick turnaround."
"The brochures were just delivered by UPS, JUST ONE WEEK AFTER ASKING FOR THE QUOTE! You guys are the BEST and the brochures look wonderful. Thank you ever so much!! Looking forward to our next business transaction."

Coding Entry
The Coding Entry Team processes a multitude of requests for Codes, Systems, Routings/BOMs, and Customer Order Requests (CORs). These requests are generated by our Plants, Services Group, the Sales and Design Team and Specialty Services. The department currently consists of four staff members with six years of combined service and experience, our newest member has been with the team for three months.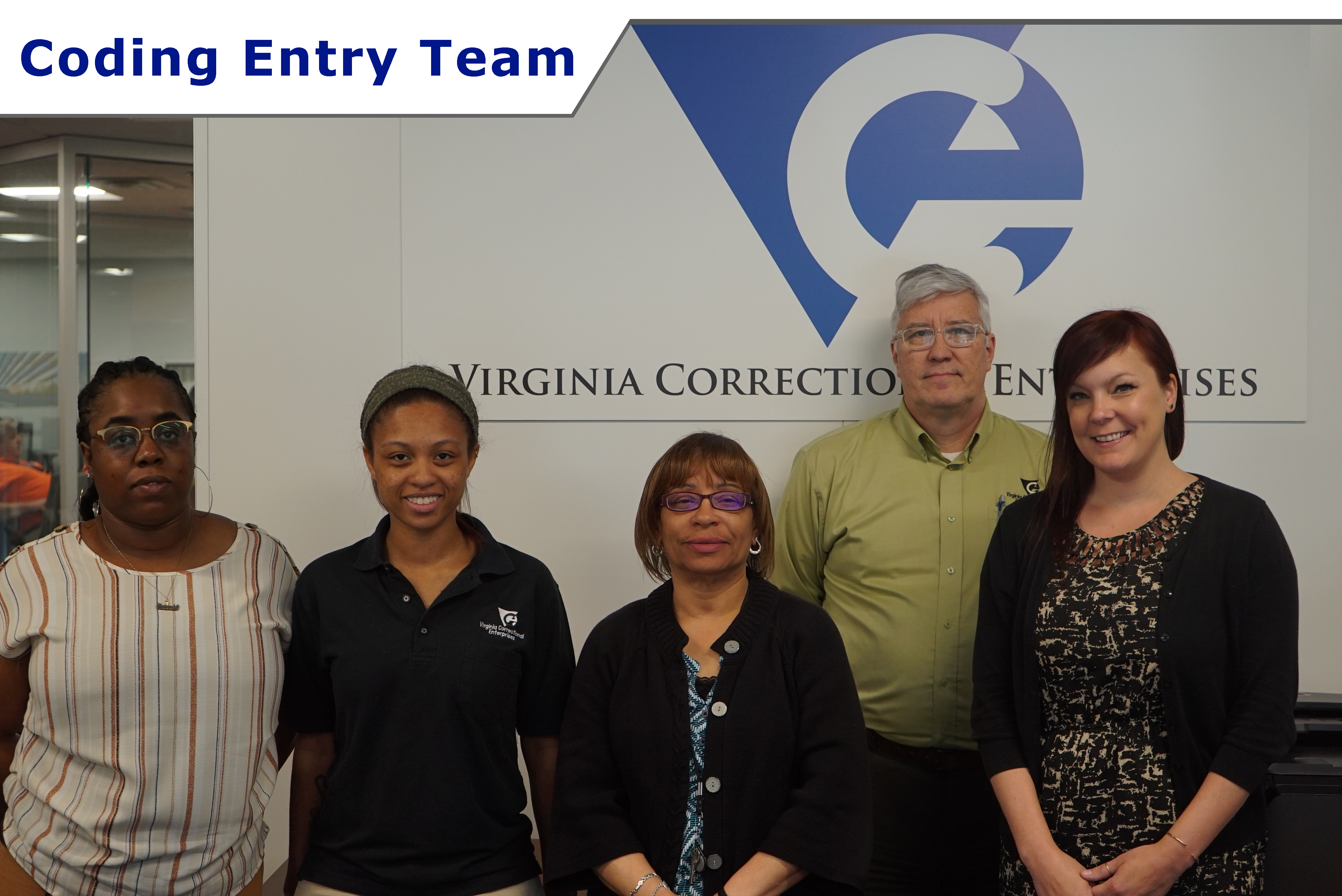 The Coding entry team performs research through SyteLine, VCE's website, and on the shared drive for spec sheets, spreadsheets, and pricing. In addition, the team regularly interacts with Vendors, and their websites to obtain quotes for fabric, vendor parts, kits, costs, and applicable freight; as well as Manufacturing, Sales and Design, and Procurement. Over the past year the Coding Entry Team has processed approximately 6,977 codes that covers finished goods (FG), purchased goods (PG), raw materials (RM), sub-assemblies (SA), D (cut codes), as well as RPR and PU codes for the Install and QIS process.
Design
The Design/CAD Department at VCE provides personalized solutions for our clients' furniture needs. Last year we generated $18 million+ in furniture sales. Projects begin with in-depth client kick-off meetings throughout Virginia with various state agencies, higher education institutions, local government offices and non-profit entities. Our clientele include facilities and purchasing departments, office personnel, outside design firms, architects, project managers and high ranking officials. Our department consists of 5 interior designers, 2 CAD designers and 1 manager located at the Richmond, Northern Virginia and Western Virginia offices.
Our projects range in size from one office up to complete multiple floors with project duration lasting from a few days to a year+. We use our CAD programs to design and space plan the furniture drawings for our clients. Projects typically consist of furniture and fabric selection, project coordination, and project completion oversight. We partner with outside design firms in providing our services for the coordination of large projects.
Our department works closely with VCE sales, marketing, customer service, codes, REMAN, CORS, manufacturing, procurement, installation, and other departments to move projects through to completion. We are also involved in product development for VCE to remain at the forefront of furniture and case goods trends.
We eagerly assist our clients as needed to satisfy their project requirements and to establish long lasting positive business relationships. We strive to obtain support and trust from our clients to gain future furniture sales for VCE through our mission.